Biography
Hired in August 2010, this streamer seems to delight in finding horrible games and then tormenting the viewers with them as he plays them to completetion. Evidence of this is his two week run of Doom 3, and it's expansion pack, along with the month long Halloween showing of all the Evil Dead video games. The fact that he also owns a copy of Superman 64 does not help his case either.
His regular streaming times usually include the early morning hours from 12am central to 7am central. Telltale signs that you may be watching a Spitfire stream include: Excessive grinding, many horrible deaths and frequent confusion.


He finished his first 24 hour stream on November 13, 2010 at 2:00 pm CNT, thus ensuring his entry into the fabled
24 Hour Stream Dream Team.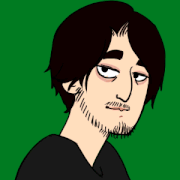 His first intro.

Also, Cats.
Notable Games Streamed/Completed.
Brave Fencer Musashi
Cho Aniki
Comic Jumper: The Adventures of Captain Smiley
Darkest of Days
Doom 3 - Doom 3: Ressurrection of Evil
Duke Nukem
Duke Nukem II
Duke Nukem 3D
Duke Nukem Forever
Evil Dead: Hail to the King
Evil Dead: A Fistful of Boomstick
Evil Dead: Regeneration
Fighting Force
Grandia
Metal Gear Solid: The Twin Snakes
Metal Slug XX
Mortal Kombat Mythologies: Sub-Zero
Psychonauts (100% :3)
Serious Sam HD: The First Encounter
Sly Cooper and the Thievius Raccoonus
Splatterhouse (360)