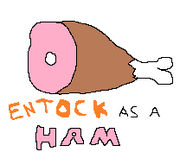 Entock is the president of the Douche club at V². The embodiment of "YEAH BRO MADDEN HALO LETS LIFT WEIGHTS AND GET CRUNK FO SHEEZY" he brings joy to all around him (by sodomizing them).
On the weekend he sells steroids to neighborhood kids and delivers pizzas, during the week Entock works at an office with a bunch of BR co-workers that huehuehue while he hates on them. He has a criminal justice degree that he never uses (except as a napkin at mcdonalds).
He has alot of sexy muscles....compensation?